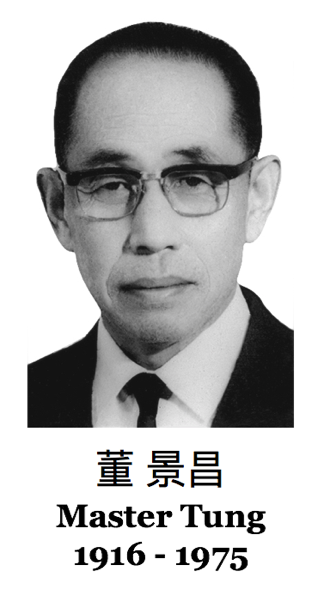 Master Tung Ching-Chang is often referred to as the greatest acupuncture technician who ever lived. He was born in Shangdong province in Northern China, but moved to Taiwan as a result of war, which he was in and treated soldiers during. He was a scholar of I-Ching and a traditional Chinese physician famous for the spontaneous and miraculous results he would obtain by only using a few needles for health conditions ranging from conditions like acute neck pain to more serious conditions such as stroke.
Master Tung's acupuncture was a treasured family secret refined over generations and passed down from father to eldest son and dates all the way back to the Han dynasty (206 BCE to 220 CE) and is unique as well as different from the Traditional 14 Channel System.

He was the first member of his family to break family tradition and began teaching his family's acupuncture system to a select few students who are now known as disciples, 73 in total. He also did this without charging any of them for their education and was said to be very generous, even offering free boarding to those students who needed it as well as reportedly payed for some of his patients cab fairs in order for them to get home from clinic due to the economic hardships at that time in history. It has been estimated that in his time, he treated 300,000 or more patients while practicing his family acupuncture system.

Master Tung unfortunately passed away in 1975 as a result of stomach cancer, but in his wake left behind a legacy as well as a single acupuncture point book. Two individuals, Dr. Miriam Lee and Dr. Wei-Chieh Young (a direct disciple) went on and eventually introduced Master Tung's Acupuncture and Points to the United States, which after doing so it has flourished ever since. Due to the spontaneous and miraculous results that are often associated with Master Tung's Acupuncture, practitioners that specialize in this style of acupuncture are highly sought after.

Dave Simmons primarily practices Master Tung's Acupuncture as well as is an educator of this style of acupuncture, but is also trained in Dr. Tan's Balance Method, Dr. Zhu Scalp Acupuncture, Korean, Japanese, Chinese style acupuncture and a few others.
The Backstory…


Advanced Acupuncture & Pain Management Clinic was founded by Dave Simmons, who is licensed in
acupuncture
by the Minnesota Board of Medical Practice and nationally certified by the National Commission Certification of Acupuncture and Oriental Medicine (
NCCAOM
). He attended Minnesota College of Acupuncture and Oriental Medicine (
MCAOM
), which is located within Northwestern Health Sciences University in Bloomington, Minnesota. After completing an intense 4+ year program he attained a Masters Degree in Oriental Medicine. Prior to
MCAOM
, he completed undergraduate studies in psychology, physiology, physical education, as well as an advanced
massage
therapy program.


At the age of 16, Dave's mother was diagnosed with breast cancer. Over the next year he watched as she battled all the odds, as well as went through what was considered standard treatment: chemotherapy, surgery and medications.


After finishing treatment his mother was left her with a new problem, chronic debilitating pain that was the result of an ill performed surgery. Doctors suggested additional surgeries in order to try and mitigate the pain that they had created, but also stated at the same time that more surgeries could potentially make the pain much worse.

Desperate for relief a friend suggested that she try acupuncture. After a few treatments the pain began to decrease gradually and then with a few more treatments, it went away altogether completely. Amazed by this Dave decided to enroll in the Minnesota College of Acupuncture and Oriental Medicine in order to pursue a career in Acupuncture and Traditional Chinese Medicine with the hopes that maybe one day he would also find relief with his own health problems. Today, the health problems he grew up being told were normal for him i.e. allergies, asthma, digestive issues, etc… are all now mostly nonexistent thanks to acupuncture.

Dave is deeply committed to promoting health and wellbeing through patient education, lifestyle coaching, acupuncture, and
Traditional Chinese Medicine
. He specializes in pain management, gynecological disorders, and evidence informed practice. He has been providing acupuncture to the communities of: White Bear Lake, Hugo, Shoreview, Mahtomedi, and Maplewood for over the last 5 years.

Previous clinics Dave has worked with:


Virginia Piper Cancer Institute

(Unity & Mercy Hospitals) - Combines the best technology, treatment methods, clinical research, genetic counseling, alternative treatments, as well as compassionate staff for focused cared towards individual needs in regards to cancer care.


Green Lotus Yoga & Healing Center
- Multiple location clinic specializing in adjunct therapies, preventative care, general wellness, and pain management.


Edina Care and Rehabilitation Center
- Long-term care facility, specializing in evidence informed practice, geriatrics, hospice, memory care (Alzheimer's & Dementia) and pain management. Dave was instrumental in creating a leader mentorship / long-term treatment care program for current residents and future acupuncturists at this location.


Natural Care Clinic of Bloomington
- Natural care clinic specializing in adjunct therapies, infertility, pain management, and sports medicine related injuries.


Edith Davis Teaching Clinic
- Known for being the first of its kind for alternative medicine in Minnesota, this clinic specializes in adjunct therapies, integrated medicine, digestive disorders, infertility, pain management, and Chinese herbal medicines.


Courage Center
- Rehabilitation center specializing in adjunct therapies, cerebral vascular accidents (CVAs), spinal cord injuries, and traumatic brain injuries.